The Family Tree of Lake Amphibians: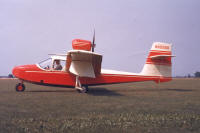 1946: Thurston forms Colonial Aircraft Corporation, Huntington Station, Long Island. NY
1948:  XC-1 Skimmer N6595K s/n 1 (prototype) Lycoming 0-235 (115HP) first flew July 1948. 2-3 place amphibian. Mid-wing, all metal construction. Mid-hull, pusher, pylon mounted engine, retractable tricycle landing gear with nose gear tire protruding out of bow acting as bumper for docking. 80 percent span slotted flaps. Engine changed at 25 hours to Lycoming 0-290 (125HP) and again in 1955 to Lycoming 0-320 (150HP) with a Hartzell constant speed phenolic propellor. Type certificate 1A13 issued September 1955, 34′ wingspan, 23'6″ length. Designed by David B. Thurston.
1955, September: Colonial Aircraft Corporation moves to Sanford, Maine to begin production.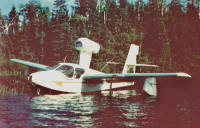 1956-57: 22 built – s/n 2-14, 16 to 20, 22 to 25. Lycoming 0-320 (150HP) 2-3 place amphibian as above under TC1A13. (s/n 15 and 21 became C-2 Skimmers) Gross weight 2150 lbs. 700 lb useful load. 40 gals fuel. STC to add extended Lake wingtips 1965. $15,750 (1956)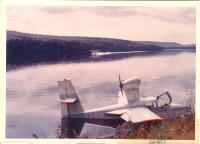 1957-59: 20 built – s/n 115 (N255B, prototype), 121, 126 to 143. Lycoming 0-360 A1A (180HP). 4 place amphibian configured as above. Gross weight increased to 2350 lbs. Useful load 825 lbs. 40 gals fuel. 34′ wingspan, 23'6″ length. Hartzell constant speed metal propellor. $24,895 (1958)
Oct. 1959: Type Certificate sold to Lake Aircraft Corporation (principal, Jack Strayer) Sanford, Maine Colonial Aircraft Corporation (Herbert Lindblad, principal) under contract to build Lake Amphibian (note name change)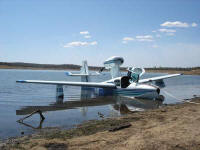 "It was interesting to read that my current aircraft S/N 311 (photo above) gets a mention as the prototype Buccaneer. "That was good to see; I had understood that it was a Buccaneer prototype, but was never sure. Of all the 20+ Lakes I have flown, it is one of the best and I still get a great thrill every time I fly it." — Kevin Bowe Flying Boat Endorsements, Australia
s/n 121, N261B, Lake prototype. Converted from C-2. 4-place amphibian configured as above. Wingspan increased to 38′, nose lengthened to enclose nose gear when retracted. Lycoming 0-360 A1A (180HP). Gross weight increased to 2400 lbs. 40 gals fuel. 38′ wingspan, length 24′ 11″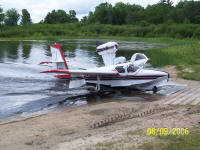 s/n 244, 245 – (1960) N1001L, N1002L. These two planes retained the short nose of the Skimmer but had the longer wingspan of the Lake. Lycoming 0-360 (180 HP), 40 gals fuel.
1960-61: s/n 246 and subsequent, starting in 1960 and ending in 1961 after 24 planes produced when the company went out of business. $26,580 (1960)
1963: Consolidated Aeronautics bought Type Certificate, production resumed 1963. Herb Lindblad formed Aerofab, Inc. which was under contract to produce Lake Amphibians for M. L. Alson, now marketer of Lake Aircraft, at Elkhart, Indiana. Lycoming 0-360 (180HP). Gross weight 2400 lbs. Useful load 825 lbs. 40 gals fuel. 38′ wingspan. The LA-4-180 was produced until 1969 through s/n 446. Note the 200 increase in serial numbers between Colonial C-1 and C-2, and between C-2 and LA-4.
1967: Several interesting variations of the plane were developed, including one with a hydrofoil/ski, one with no landing gear, and one with a hover cushion.  None of these saw any follow-on production.
1969: Lake Aircraft moves to Tomball, Texas 1969
LAKE SEAPLANE
1969: s/n 410, N7637L was the only Lake built without landing gear – a straight seaplane. 0-360 (180HP), 40 gals fuel, 2400 lb. gross weight. 38′ wingspan. $23,562 (1969)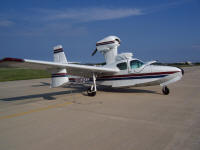 1968-81: s/n 311, N1149L (prototype) converted to IO-360 A1B (200HP) in 1968 . Production began 1969 with s/n 431 although a few 180HP were built after. The Lake Buccaneer (LA-4-200) was produced through 1981 to s/n 1073. Gross weight increase to 2600 lbs. Useful load 1135 lbs. 40 gals fuel plus 14 gals added to floats upped gross to 2690. 38′ wingspan. $32,950 (1970) $57,950 (1979) $82,920 (1981)
1979: Armand Rivard buys Lake Aircraft from Alson and moves offices to Laconia NH and Kissimmee FL. Type certificate owned by REVO.
1985: Armand Rivard buys Aerofab, Inc. Herbert Lindblad is now CEO.
1982-1986: from approximately s/n 1074 through 1116. Engine changed to balanced version (Lycoming IO-360 A1B6), prop shaft extended, rear engine cowling installed, batwings, cargo door, fuel floats standard equipment. 38′ wingspan, 54 gals fuel. 2690 gross weight. $96,600 (1983) $110,000 to $125,000 (2004)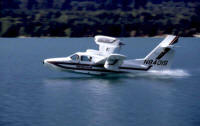 1983 to date: S/n 1, N250L, a converted LA-4-200, and subsequent. Name change to Renegade. 4-6 seat all metal amphibian. Fuselage stretched in cabin area. Tail redesigned. Pylon and engine cowl redesigned. Horsepower increase to 250. Lycoming IO540 C4B5 (250HP). Three-blade Hartzell metal propellor. Fuel increase to 90 gals by integral wing tanks. Wingspan 38′. Length 28′ 4″. $146,000 (1982) Turbocharging available. Lycoming TIO-540-AA1AD. Empty weight ~2070 lbs, gross weight 3050 lbs. Military version named Seawolf. Note a 100 serial number increase during Rivard ownership.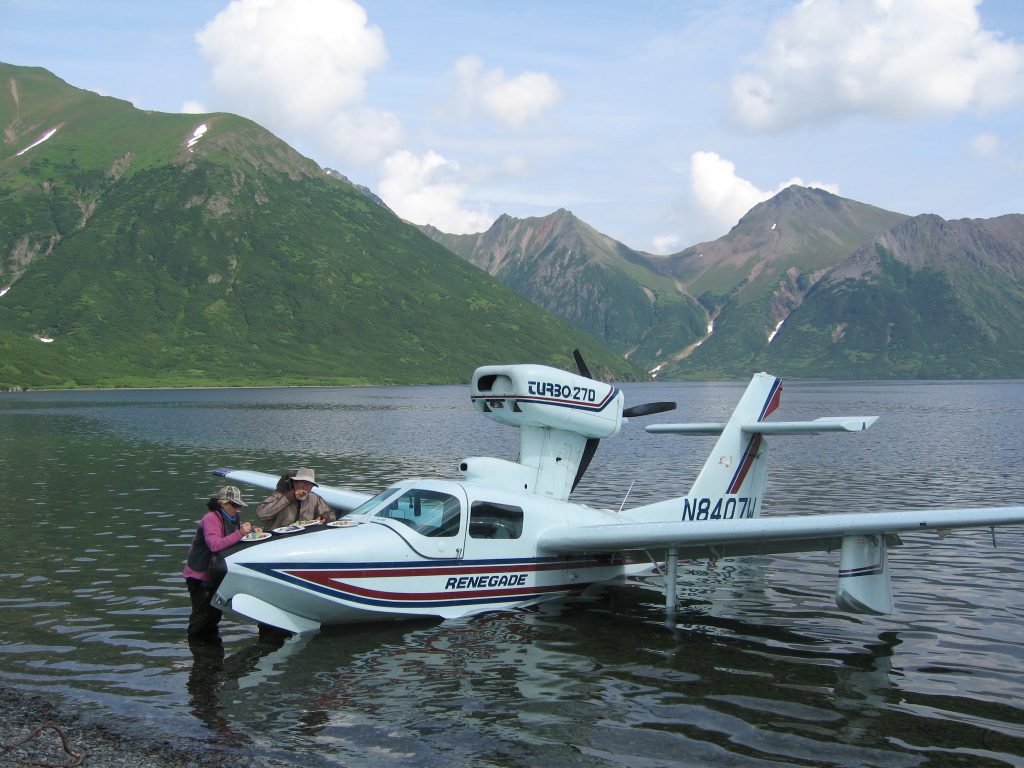 1987 to date: Miscellaneous serial numbers. 4 seats. Lycoming TIO-540-AA1AD (270HP) Renamed Turbo Seafury. $348,000 (1991) $745,500 (2001)
October 2002: Armand Rivard sells Lake Aircraft and Aerofab, Inc. to Wadi Rahim, principal of LanShe Aerospace. Type Certificate now Global Amphibians. Renames company Sun Lake Aircraft and moves manufacturing and sales to Fort Pierce, Florida.
2004: Delivery of first aircraft, a Turbo Seafury, s/n 235, N8553Z made in 2004. Rename Renegade 250 to Renegade 2. $449,000 (2003) and Renegade 2T $545,000 (2003), Turbo Seafury $749,000 (2003).
2005: Rivard regains control of Lake Aircraft after Rahim defaults on payments.
Approximately 916 Colonials, 180 and 200 Lakes made to date. 137 Renegades to date. Some of the LA-4-180, 200, and 200EP had after-market Rajay turbochargers installed.
Provided by John Staber, 3/2007
A Thumbnail Sketch of the History of the Lake Amphibians
Designed by David Thurston, the prototype C-1 Skimmer was built in the mid 1940s and first flew in July of 1948. At the time, Thurston was employed by Grumman and several aviation specialists were employed to help build the little amphibian. One of these was Herbert Lindblad, who at the time worked for Republic. David had formed the Colonial Aircraft Corporation with the intention of eventually producing the aircraft. The Korean War interrupted the flight testing, but finally a type certificate was issued and production started in 1956 after the company moved to Sanford, Maine. Sanford was chosen because of the airport and large empty woolen mills making for a ready-made factory at a fraction of the cost of one on Long Island.
The production C-1 Skimmer was powered by a Lycoming 150 horsepower engine, could sit 3 people, stalled at 50mph and cruised about 110 mph with a 34 foot wingspan. The company built a total of 23 C-1 Skimmers through 1957 while designing a 4 seat, 180 horsepower version. This went into production in 1958 and 1959 and the company built 20 C-2 Skimmers. The primary salesperson involved during this time was John F. Strayer, a former test pilot for Grumman. At the end of 1959 he bought the manufacturing rights, renamed the company Lake Aircraft Corporation, and renamed the airplane, the Lake Amphibian.
Some design changes were made by Strayer which included lengthening the nose to enclose the nose gear when retracted, and adding 2 more feet to each wing, which resulted in 50 pounds more useful load. Colonial Aircraft Corporation under Herbert Lindblad built the parts for Lake Aircraft and David Thurston went on to other enterprises and designs. Strayer built about 24 Lake amphibians during 1960 and 1961 and unfortunately went out of business. No aircraft were built in 1962. Strayer was later to work for Pepsi, skywriting the word "PEPSI" all over the country.
Meanwhile, new financing was found and in 1963 M. L. Alson, of Elkhart, Indiana took over the sales of Lake Amphibians. Alson was responsible for getting Brantley Helicopters off the ground (pun intended). He was under contract to purchase each Lake built by Aerofab, Inc., a new company formed by Lindblad at Sanford, Maine. This arrangement was to last for many years. It was not an easy job selling Lakes. They were a well-built, nice flying, docile amphibian, but a wee bit on the slow side, and a wee bit lacking in useful load and all along, needed more horsepower.
In 1970 Alson introduced the 200-horsepower, Lake "Buccaneer" about the same time he moved the company to the Houston, Texas area. Sales improved considerably because of the extra horsepower, gross weight, and performance, plus year-round flying capabilities. Aftermarket turbochargers became available, also, along with much lighter avionics. "Al" Alson retired in 1979 after selling the company to Armand Rivard of Laconia, New Hampshire.
Rivard had been a very successful dealer since 1973. He closed the Houston office and moved the operation to Laconia and Kissimmee, Florida which was beginning to boom, due to the Disney complex. Sales became a little sluggish in the early 1980s and Armand responded with a few changes to the Buccaneer. Namely, the introduction of the Lake EP which included many improvements. The EP had an enclosed rear cowling with an extended propeller shaft and a balanced engine. A cargo door, wing fillets, plus fuel in the floats were now standard equipment, all of which improved performance.
For years Lake pilots have said that the amphibian should have 250 horsepower. Rivard, Lindblad, Paul Furnee and others designed and introduced the "Renegade" in 1984, with substantial changes. Namely, 4 or 6 places, an extended hull and a totally new tail design. Performance increased considerably along with the load carrying ability, not to mention its ability to land and take off on much rougher water. A few years later the factory followed with a turbocharged 270 horsepower version which added high altitude use to its attributes.
Over the years the cost of a new Skimmer or Lake went from about $16,000 to over $500,000 for many reasons. Sales of Renegades have been very sparse in the last few years, the last one built under contract, in 2006. Armand sold the company in 2003, only to regain it a year or two later, minus a rather large asset — the factory and hangar at Sanford. Many parts are still being supplied. To date there have been about 137 Renegades produced, with a total of approximately 1050 Skimmers and Lakes built since 1956.